About
Learn more about me
I specialize in backend and frontend web development, but design implementation is not a mystery to me either. My preferred content management system is Contao Open Source CMS and nearly all of my projects are based upon it. Because I am passionate about the system, I actively support the Contao community by creating and releasing miscellaneous open source extensions. Privately, I enjoy riding my Harley Davidson bike, playing chess and supporting Manchester United football club.
Some more details about me:
Contao Polish ambassador
Contao Polish community manager
Contao Polish translator
Contao Association contributor
Author of popular Contao extensions
Amateur chess player
Harley Davidson rider
Manchester United fan
Open Source Contribution
A little love back to the community
In my free time, I enjoy creating open source extensions for Contao. Apart from that I have also developed some minor JavaScript utilities. Most of my projects are released under MIT license, which means you can use them for commercial projects for free. This is my personal contribution to the fantastic, ever-evolving open source community.
0
Open Source Projects on GitHub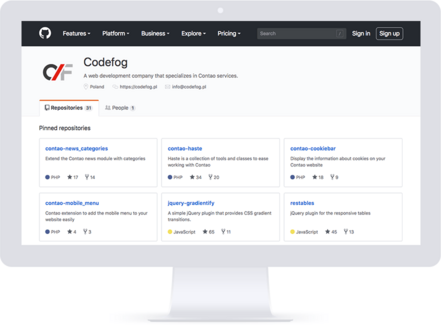 Let's Get In Touch
Are you already convinced?
I will work with you to fully understand your projects and goals you want to achieve. Let's get the ball rolling and take your project to the next level!